Associates
Kevin J. McCabe
Investment Associate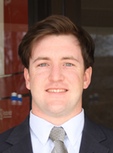 Kevin J. McCabe is an Investment Associate with Clark Dodge Asset Management, and is responsible both for Investment Operations and Investment Research. Kevin earned his Bachelor of Arts from Tulane University in 2012 and is a graduate of Iona Preparatory School. Kevin grew up and resides in White Plains.
Lisa B. Rudley
Vice President

Lisa B. Rudley is Vice President of Private Client Services for Clark Dodge Asset Management. She is responsible for Client Advisory Services and Business Development and brings over 15 years of financial investment services expertise.

Previously, Lisa served as Vice President of the Client Service group at Morgan Grenfell Capital Management; she was responsible for asset allocation strategies and client advisory services for investment clients, including endowments. Lisa also was the Vice President of the Investment Advisory Services department at J&W Seligman & Co. where she provided in-depth service to private and institutional clients.

Lisa earned her BA from Richard Stockton College of NJ in 1988 and received an MBA in finance with a designation in international business from Fordham University in 1995. Lisa lives in Briarcliff Manor, NY with her husband and three children. As a parent of a child diagnosed with an autism spectrum disorder, Lisa has a comprehensive understanding of the "Special Needs" community. Currently, Lisa serves on the National Autism Association (NAA) NY Metro Chapter Board and is an active member of the Autism Action Network (AAN) and the Elizabeth Birt Center for Autism Law and Advocacy (EBCALA). She is also the co-leader and co-founder of the NAA NY Metro Westchester sub-chapter support group servicing over 600 families in the Westchester area.